Caroline's story is nothing short of remarkable not for its massive life altering changes, in fact quite the opposite. It is the subtle, highly achievable small changes that she 100% committed to that made all the difference. As in most cases it is never really about the number on the scales more the feeling of confidence you gain from knowing you look good.
I absolutely loved working with Caroline, she is one of the most inspirational people I know. She works hard to make her incredibly busy life work well both professionally and personally and fully deserves to shine brightly.
The results speak for themselves.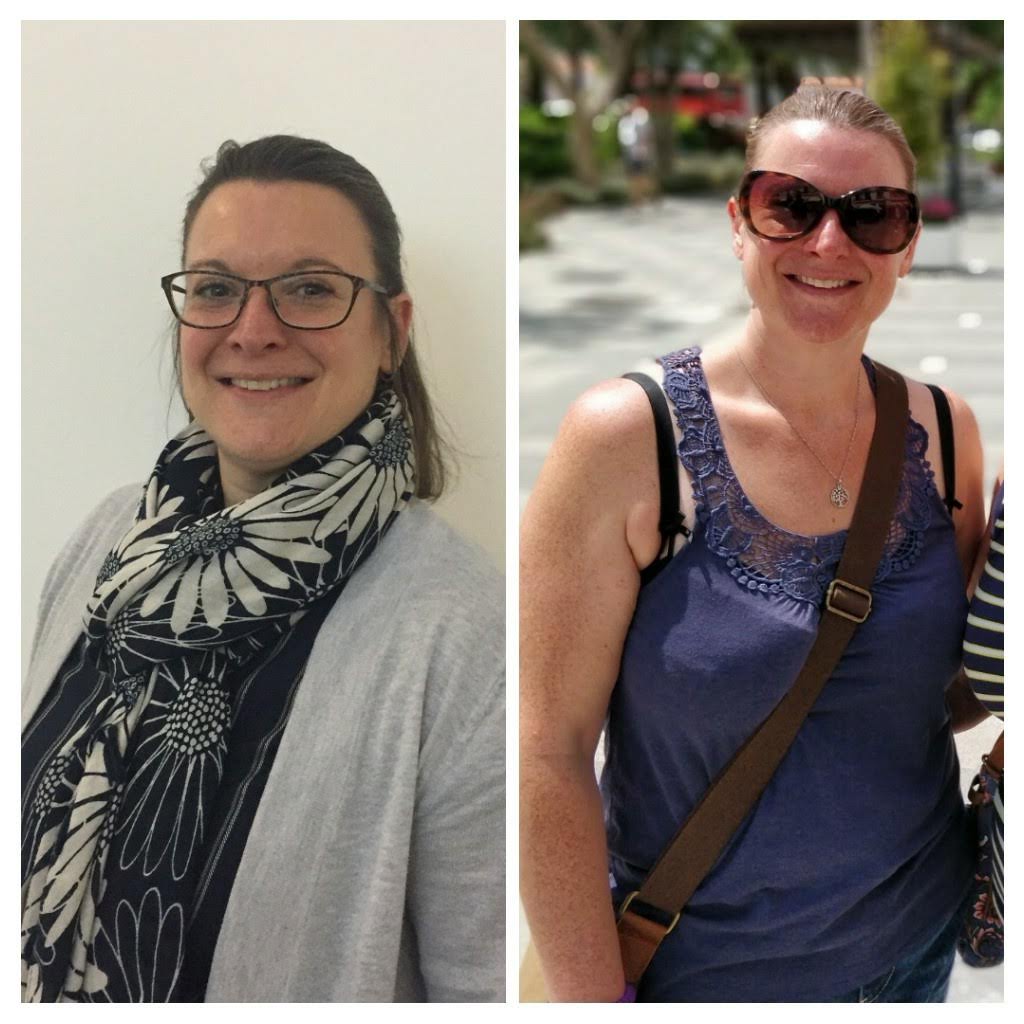 I've tried various diets over the years, sometimes more than once, I've even reached my target weight a few times following these diets but there lies the problem. No matter how many times I got to my target weight I've always battled to maintain it for more than a few weeks.
Earlier this year I knew I had to do something. I consider myself lucky in many ways, I'm married to the love of my life, we have a lovely home, I started an exciting but demanding new job at the end of last year, my family and friends are happy and healthy (for the most part), I live an active life and enjoy travelling but my confidence was suffering because I was overweight. I was looking for a different approach, something that would change my battle with food forever. I've known Iain for years through work and I've seen the results he's achieved with his clients, some were mutual friends so I've witnessed the transformations with my own eyes, so I decided to take a closer look at Hit My Goal.
Iain walked me through the 12-week online programme and whilst it took me a few weeks to commit I knew it was time to invest in me.
There's nothing complicated about the programme but I'm a great believer that you only get out what you put in so I was committed to playing my part.
There were a few forms to fill in to give Iain a better idea of my personal battles and my goals, but it meant that Iain could give me the guidance I needed from the outset. Iain outlined what I needed to do to lose the weight and we started implementing measures and controls straight away, the weight started dropping from the very first week.
Throughout the 12 weeks Iain and I spoke regularly and he was always at the end of the phone. We agreed a plan of attack at the start of each week and Iain gave me tips and tricks to keep me on track. In 12 weeks I lost 23lbs, and looking back it became evident to Iain and I that I'd not made massive changes to get there, I couldn't because I have such a busy schedule each week.
It doesn't have to be an uphill struggle but you do need to be open to making small changes and committing to embedding healthy habits in your life. My birthday and a holiday in the middle of the 12-week course couldn't derail my progress which showed me this was something that could work long term!
I can't thank Iain enough for his part in helping me to take control of my weight. He pushed me harder than I expected, to commit to a target each week and keep driving the results but it helped me to plan ahead and test my limits. I'm never going to be an athlete but we did set mini challenges throughout the 12 weeks, I shocked myself with the progress I made and Iain encouraged me to step outside my comfort zone but at no point did I have to do exercise that I didn't enjoy. I'm actually very organised and structured in my professional life and Iain made me realise that if I just focused those skills on myself I would achieve the results I was looking for.
It wasn't long before I started to see a number of non scale victories too, all of which spurred me on to keep focused on the goal.
The biggest change for me is my confidence. I work in a very male dominant industry and within weeks I found my confidence growing. I have a wealth of experience and I know my stuff when it comes to work but in the past I've bitten my tongue and tried to blend into the background rather than stand tall, speak out and offer my insights, that's all changed! I'm no longer conscious about my weight and what I look like, the daily compliments have probably helped, but it means I can focus on being a valuable member of the team and ensuring we are as successful as possible. Since then I've attended an awards dinner and I loved shopping for a dress for the occasion. We've hosted events and I've managed to unlock a section of my wardrobe that's been out of bounds for years. I have a whole new wardrobe which is fun. The last lunch we hosted I wore a bright red dress (something I'd never have dreamed of in the past) and I felt great, looking around the room filled with a sea of black, blue, white and grey, and graciously accepting the compliments.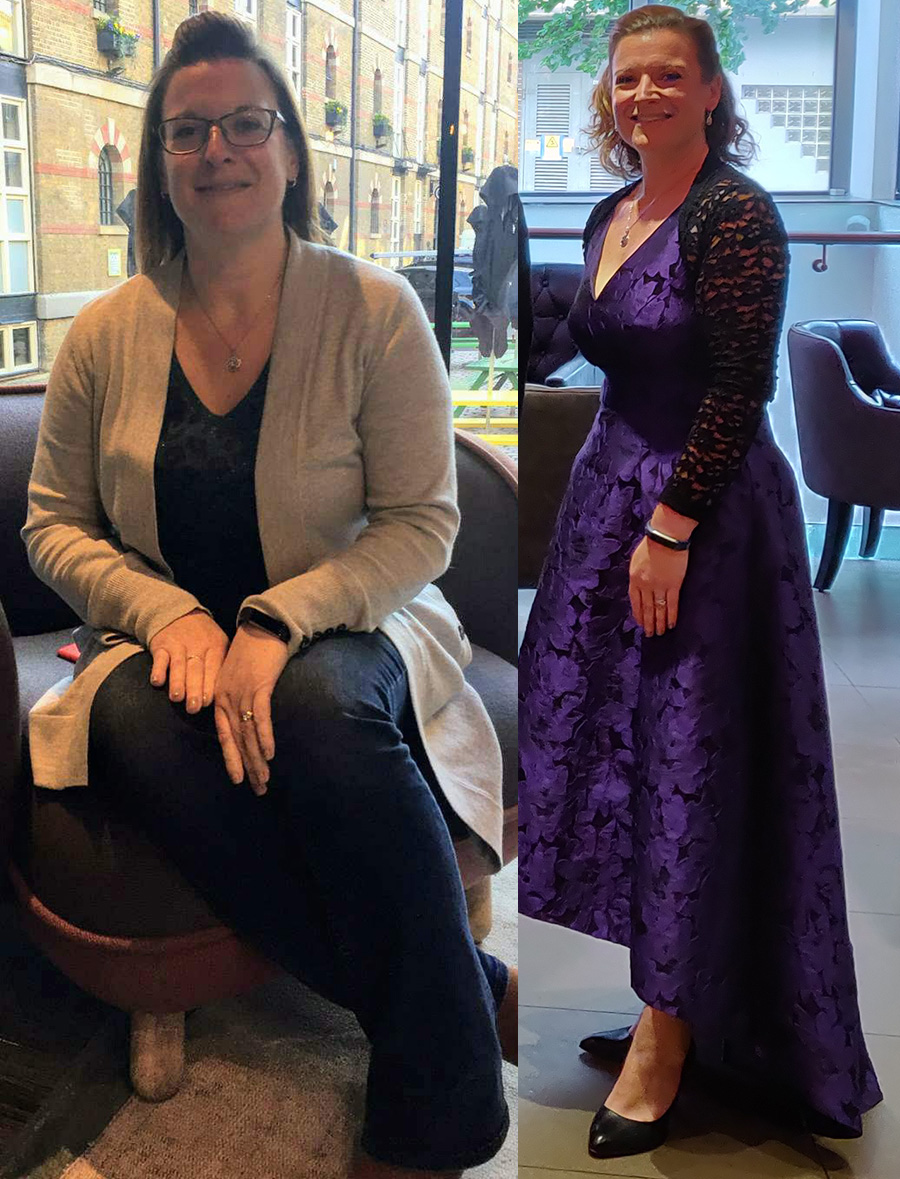 There were other benefits too. I'd been taking nytol to help me sleep since starting my new job and just a few weeks in, I stopped. I started sleeping better and noticing a difference in my energy levels as a result. And don't get me wrong, I love food, I don't go without, but I am more aware that there needs to be a balance.
Thanks to Iain and the tools he's given me throughout this experience I now feel in complete control. I know that the big test will be maintaining but I feel like I now have the insight and the mindset to do just that. Iain and I caught up on the phone a couple of weeks ago, nearly two months after I reached my target and I'm winning. This time, my weight loss journey feels different, it feels like I have the answer to long term success so thank you Iain, I couldn't have done it without you.
Inspired by Caroline's story? Let's talk. Do you have a goal in mind that would take you to a happier place in your life?
Click: http://www.hitmygoal.co.uk/contact/ or email: info@hitmygoal.co.uk