Cycling ESP (Endurance, Speed & Power).
We love cycling too.
Whether you are a regular on a Sunday morning club ride, a dedicated roadie, an occasional steady peddler or a Mountain Biker this is for you. 12 weeks of cycling specific fitness coaching.
This is a bespoke plan made to take you from where you are right now to becoming a much stronger, faster cyclist using specific exercises, some strength training and mostly on bike workouts (either indoors or out on the road). No promises you'll make the next Tour de France though.
Cycling ESP is absolutely suited to any level whether you are a beginner, occasional rider or a hardened regular.
The program is simple to follow and maximises the time you have to dedicate to training each week. No specific equipment is required but some sort of exercise bike / turbo trainer would be useful as most of the program is done at home or out on your bike.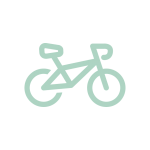 CYCLING ESP 12-week course
A dedicated weekly coaching session (online or in person)
A structured program that you do at home
Use your own bike / turbo trainer / exercise bike
Learn what simple exercises will help make you a stronger cyclist
Measure your progress
Enjoy training like the pro's from the comfort of your home (mostly)
If you have aspirations of enjoying longer and faster bike rides, SIGN UP NOW.
" I can't thank Iain at Hit My Goal enough for providing the direction and motivation to change myself from a tubby chap to a super lean, strong cyclist."
Marc came to me wanting to improve his overall cycling ability, so he could keep up with his friends in his local cycling group. Now he is an incredibly powerful and very accomplished cyclist. Read how Marc conquered arguably the toughest sportive in the UK.