ANDREA BROWN > Weight Loss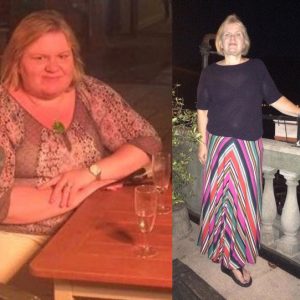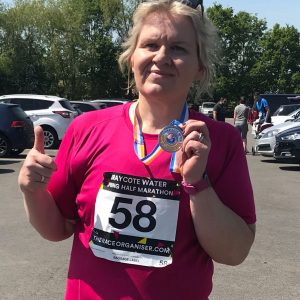 This is a story from a lady called Andrea from Brixworth who has worked so hard for her truly remarkable results:
When I first started with Hit My Goal my coach Iain was keen to identify my motives for personal training. This was simple, WEIGHT LOSS…  5 stone actually but without feeling that I had to give up my love of food. A tricky combination I know! Fortunately for me, he engaged in my sometimes (dare I say) stubborn personality very quickly and was keen to support me in this challenge. I had tried pretty much all other ways to lose weight but none have worked.
I find my Iain's enthusiasm and overall approach to training highly motivating. He genuinely understands my frustrations with fitness and has motivated me to realise that the impossible can become possible. We are able to discuss my pitfalls with food too in a non-judgemental way and for this I can always be honest with him. He has taught me to appreciate the importance of target setting and with technology at my fingertips this really has had tremendous results with a 5 and a half stone weight loss. Yes that is 77lb's lost and I am a totally different person not to mention my very different wardrobe (it now includes a sportswear section).
Ultimately, it is all about me taking responsibility for my own actions and being consistent. Iain did this in such a succinct way that I signed up and completed my first half-marathon independently with some friends from work. He empowered me to do this. I could never ever have imagined doing this, but with him as my mentor, I did 'Hit My Goal' and continue to strive for new goals.
Oh yeah, did I mention in my first session on the Ashway field in Brixworth I could barely even run the width of a football pitch so you can see how far I have come to run a full half marathon. I still can't believe it myself. It was tough.
I still love my food but love being in control of my weight even more.
I hope this inspires you to give Hit My Goal a go.
Andrea, Brixworth     
Richard and Sarah > Weight Loss
Here is a testimonial from a wonderful couple who really embraced the Hit My Goal program.  They are very much enjoying life much lighter and without the ongoing weight loss struggle.
To Hit my goal,
As a thank you, I'd like to write a little bit of a testimonial to Iain for his fantastic Hit My Goal program.
Both myself and my wife had gotten a little overweight and unfit, myself due to a change of career to more office based work and my wife due to having a double hip replacement and the lack of mobility that had caused whilst healing. The problem was that neither of us were particularly keen on stomping away in a gym and both of us are real food lovers and the idea of living on salad was not particularly appealing.
Luckily Hit My Goal is the sort of program that is perfect for people just like us. In twelve weeks I went from being 16st 9lb to 14st 10lb and my wife had lost a remarkable 2 stone (look how happy that makes us).
The great thing was that we only slightly changed our diet and have kept all of our favourite meals and snacks, even found new great dishes. We have also found some completely new hobbies that not only keep us fit physically but are also great for taking away the stress of the week.
The whole thing with the way Iain ran our program was to encourage us a little out of our comfort zone and look to things that we thought we'd like to try (for us it was badminton) or things we used to enjoy before a busy life got in the way (cycling!). Once we started on this path and got used to the useful tools that Hit My Goal supplied then it was actually a really enjoyable feeling to catch up with Iain weekly, to wax lyrical about how much progress we'd made. Even the weeks that weren't brilliant, weight loss wise, were made a lot better with some good advice and further encouragement.
The main point to all of this, is that this is a program that both me and my wife have kept up with in the months since we completed it (none of the weight loss yo-yo for us!). It's really simple to use and we can honestly say that it has improved our quality of life and even made us some new friends!
Thank you to Iain and Hit my goal… you Rock!
Rich and Sarah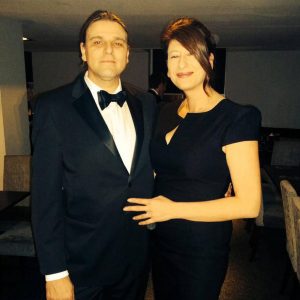 Richard and Sarah before.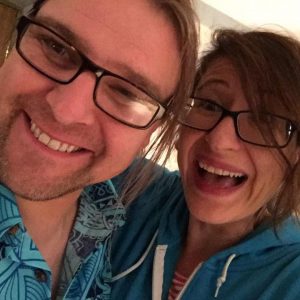 Look how happy you made us!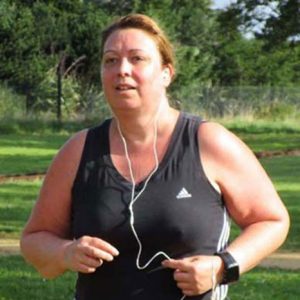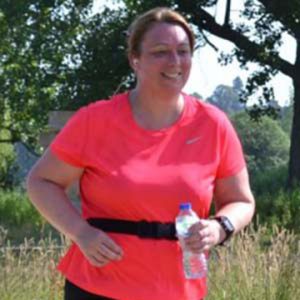 Fitter, healthier, happier.
Another brilliant testimonial from a local lady who is still very much on her journey to stardom…
What have you done with the old Julie?
I'm an Accountant who sits on her backside all day, I had not been well, and had piled on weight. I was really unhappy but didn't know what to do. I'd been lost in diet clubs and crazy 'diet-fixes' for years, (none of which worked well) then I saw a friend who had lost an amazing 5 stone. She gave me Iain from Hit My Goal's number and I contacted him. We started training the day after I returned from holiday in July 2017.
I told Iain that I wanted to lose 5 stone – he was the only person who didn't mock me, or tell me i was being ridiculous, he believed in me from the start, supported my goal, and outlined a plan, which included running and a change in eating habits.
When we started training I couldn't run to the end of the street; the first few weeks of running were a real mix of run/walks. Iain was always supportive, and pushed me, but at the same time he knew my limitations, so I wasn't left feeling like I couldn't move for days afterwards and dreading the next session.
At this time, I completed my first parkrun (on the last Saturday of July 2017), it took me 44 mins of super hard effort, trying to run and walking when necessary, and I could barely walk up the stairs afterwards. 8 months later and I'm down to 37 mins for a 5k, and I completed the Silverstone 10k a few weeks ago.
On my return from holiday last year a friend posted a photo on Facebook. I was horrified, all I could see was a huge inflated body, with calves melting into ankles, how i hated that photo! So much that I begged my friend to remove it. Just last week I returned from holiday again, and I posted a full-length photo of myself – I have distinctly different calves and ankles – I no longer hate how I look!
Mentally and physically I'm in a much healthier place. I really enjoy exercising now, I have a stressful job and find that when I run i don't think about work… at all… its like a holiday for my mind but invariably when i get home i have a fix for a problem, that before i ran was insurmountable. Physically I'm a much better shape, I'm wearing smaller clothes (which makes me very happy!), my skin has a renewed glow, and the puffiness around my eyes is a distant memory.
I've changed my diet and my exercise regime. Iain has worked with me to make sure that it's doable for me. He's not set me silly targets that I would not be able to achieve. He understands that real life sometimes gets in the way and encourages me to take these bumps in my stride and not see myself as a failure.
As I write this I am almost 2.5 stone lost into my journey, I can run 10k, I'll do a half marathon later this year, my resting heart rate has reduced from 70 something BPM to 58 BPM, my lung capacity has increased (I count breaths in and out on aircraft takeoff as i'm a nervous flyer, and my counting has almost doubled). Succinctly, I'm an improved, and much much happier version of myself.
I would recommend Hit My Goal without hesitation. Iain is supportive, helpful, positive, and most importantly for me, he is real. He understands weight issues, understands how you get there, and how to support his clients to get to a place they want to be. He's a very personable guy who is easy to work with and get along with.
Julie
Here is a testimonial from a Brixworth Velo regular Marc. It's a great read with fantastic results.
From over-weight Dad to (almost) the new Peter Sagan
How did I end up here? 38" waist!!
This is my tale of transformation. I'm a married 45-year old father of 3 grown up children (yes we started young). After years of being Dad I had an awakening in M&S of all places. I was trying on some work trousers and found myself opting for the 38" waist as I'd gradually piled on the pounds and was 15 stone 2lb's. This was September 2016, something had to change.
So, in November 2016 I purchased lightweight carbon road bike, and my kids treated me to a turbo trainer for Christmas which in all honesty I struggled with due to the sheer boredom. By March 2017 I'd had a few rides and started eating better and lost a respectable 7lb's. It was at this point a good friend was also getting into cycling and had posted on Facebook to see if anyone else from Brixworth (where he lives) was interested in joining him for a ride. A few locals met one rainy Sunday morning and that was the beginning of what is now known as the Brixworth Velo.
The beginning of something great… the Brixworth Velo
The first official Brixworth Velo ride was late April 2017 and 15 blokes met at Brixworth library and headed out on a 30-mile local loop. I felt pretty good having lost some weight and riding a pretty nice bike until we got the first hill. It was like I went into reverse. I watched as men quite a few years my senior powered up the hill.  I knew I had some work to do.
Over the next few months I was good with food, rode regularly and in June 2017 did my first 100 miler. In September 2017 did my first ever Sportive, the Cycle for Cynthia 50 miler https://www.cycle4cynthia.co.uk which truly is for a wonderful charity. By this stage I was down to 14 stone and feeling pretty strong on the bike.  Brixworth Velo was growing I was meeting new cycling friends and one day there was talk of "are you doing the Fred Whitton next year".  Not really knowing what it was I agreed and signed up. It was a while before I found out it is known as one of the UK's toughest sportives with 13000ft of climbing.
An inspiring coach, and good friend
Whilst riding with the ever growing Brixworth Velo I have got to know lots of new faces and characters which I can now call good friends. One of these characters was Iain from Hit My Goal. I enquired if he was doing The Fred Whitton ride to which he replied something like "I'm not sure of can commit to that much training".  TRAINING!! What training? It was starting to dawn on me that I may have underestimated next year's challenge.  What had I let myself in for?
Iain and I chatted further and I discovered he offered cycling specific fitness coaching called Cycling ESP (Endurance, Strength & Power) a 12 week program that works on improving all aspects of cycling. I grasped this opportunity with both hands and agreed to meet him in his studio. We discussed my goals in depth and got started.
The first 4 weeks were really tough as I began to build a base strength to prepare my body to lift more weight. I was given 3 clear workouts per week that were reviewed and adapted at agreed points. I completed the initial 12 weeks and continued for a further 12 weeks as I still had a long way to go with 115 miles and 13,000ft of climbing in the Cumbrian mountains looming.
Amazing results
One thing that really helped was being accountable to completing the training I had been set. After every session I would upload my efforts on Strava and PM my coach with feedback on what was tough or what worked well etc.  This helped loads with motivation. It was clear my disciplined plan was working and I went from deadlifting 40kg to 80kg in this period and my average speeds on Strava were increasing (I am quite competitive). A line that my coach Iain used on me was 'You will come out of winter training performing like Peter Sagan'… this line stuck with me.
So now down to 13 stone and my god it felt good. I had ditched the sugary drinks, eaten more vegetables and reduced my carbs and was feeling the benefit on the bike. Other Brixworth Velo members were noticing that I was mixing it up with the strong guys in the group.  My Strava times were vastly improved and inspired by other riders also consciously improving I have gone from strength to strength. I can't thank Iain at Hit My Goal enough for providing the direction and motivation to change myself from a tubby chap to a super lean, strong cyclist.
The MIGHTY Fred Whitton Saddleback Challenge
May the 13th soon arrived, the winter training and Peak District taster ride completed leaving only 13,000ft and 115m miles of Cumbrian mountains to conquer. My goal was to complete the event. Loaded to the hilt with Energy gels, flapjack, pork pie and drink I hit the road along with the other 2499 competitors.
The going was good, Kirstone Pass climb was a breeze, the A66 to Keswick was immense with speeds tucked in the peleton touching 40mph. What's all the fuss about, toughest Sportive?? Then the reality hit home for the first time Honister Pass!! A brutal climb out of the saddle which allegedly comes close to the infamous Hardknott Pass. Brutal but achievable as I reached the summit without a stop, now I knew why Iain had pushed me to my limit on leg day Wednesday's, deadlift, goblet squats and HIIT sessions. 55 miles in Newlands pass smashed and the ½ way point reached.
Whinnats pass was next and my first emotional moment as a cyclist as I passed the cheering crowds with cowbells ringing. Incredible!!
96 miles in and at the foot of the infamous climb (it as to be said it looked pretty daunting). My plan was to hit it hard, take a breather in the middle and make the final ascent. The Hit My Goal cadence training came into effect at this point, spinning my way in the granny ring.
My mission was to complete the Fred Whitton. I cruised over the finish line in 10hrs 30mins with stops. 8hrs 30mins Strava time. What i initially thought of as unachievable in Nov 2017 was completed in a respectable time and I can only thank Iain and his Hit My Goal program, support and encouragement. He helped me to achieve my weight loss targets (now 12st 1lb) and I am now a much fitter and substantially stronger cyclist.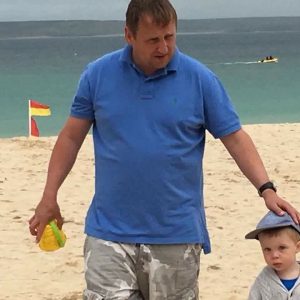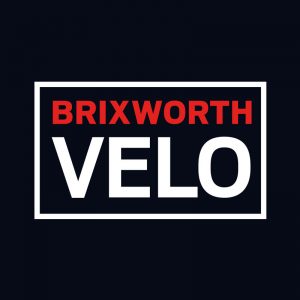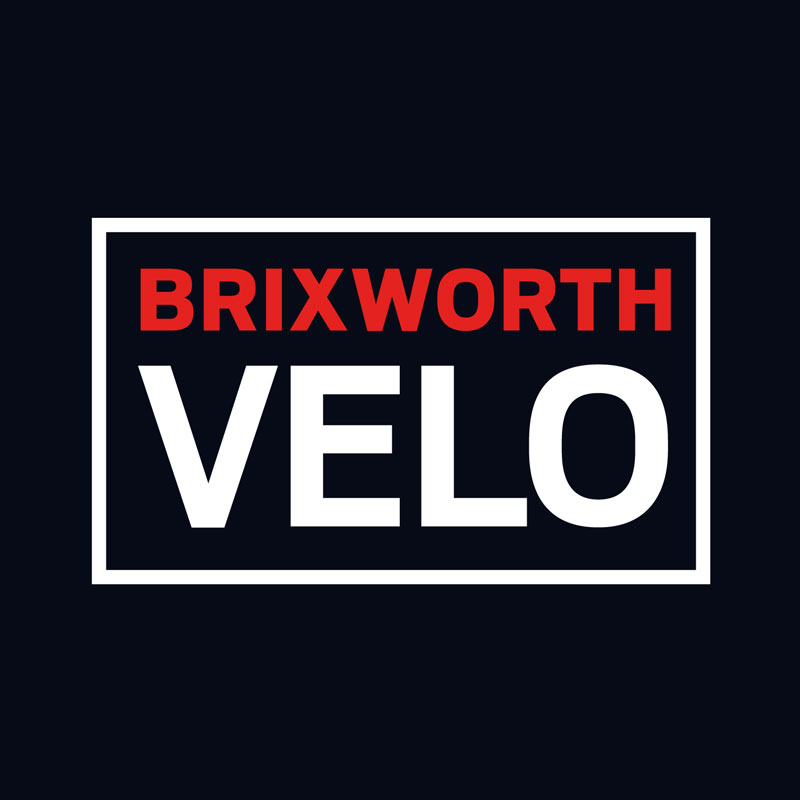 The beginning of something special…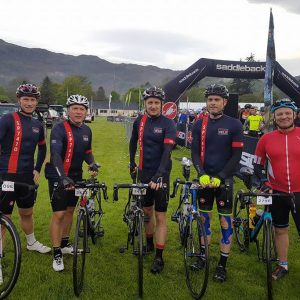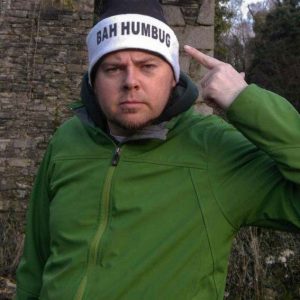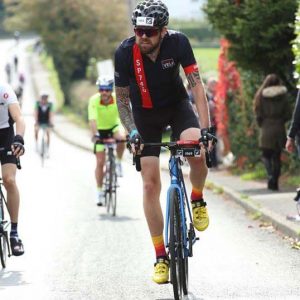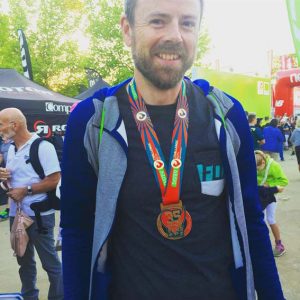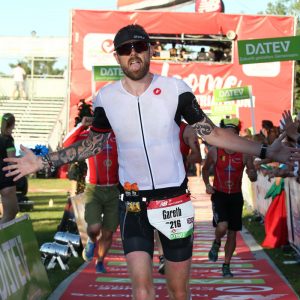 THIS IS WHAT CAN HAPPEN IF YOU GET YOUR MINDSET RIGHT…
This is a testimonial from a client I worked with in 2016. Gareth went from a heavy drinking overweight 30 something to an all-conquering athlete. In July this year (2018) Gareth completed Challenge Roth an Ultra Distance Triathlon (140.6miles) in under 12 hours.
This is a remarkable story. 
I didn't just Hit My Goal, I smashed it to pieces
I'm Gareth and I am 6 foot 3 inches tall which helps hide the fact I weighed 16st 8lbs. But I knew. I was overweight, unfit, and lacking any motivation. In an attempt to lose weight I bought a mountain bike and started with short local rides which slowly got longer and grew into a healthy hobby. I lost a few pounds too which was good but I was still overweight and fairly unhappy with my size and lack of fitness.
Something needed to change
Slightly reluctantly I started looking into weight loss options including diets, fitness classes and even personal training. This is when I found the Hit My Goal 12 week course and everything changed. From the first time I spoke to Iain it was clear the course was results driven which appealed to me as I had a target weight in mind.
I committed and began the course and straight away I felt in control. Iain and I discussed each week ahead and set a realistic plan based on my life and what I enjoyed. I was expecting to be told to do burpees and never eat biscuits or chocolate ever again but in fact it was all simple and achievable exercise and food planning. As cycling had become a passion now we focused on doing it more and doing it better.
Massive milestone
Initially the aim was purely to lose weight, or so I thought. For me going to the gym was always a chore, and more often than not I would talk myself out of going.  Looking back none of that mattered. By getting my mindset right and focusing on enjoying every workout and every bike ride knowing I was getting stronger and faster was the real incentive. It wasn't long before I bought a road bike and set my new goal to ride a 100-mile sportive. I am proud to say with Iain alongside me I completed the 100 miles and have gone on to do other similar events since. I managed to qualify for the amateur road race championship in my age group when racing at the Tour of Cambridgeshire, something I am very proud of.
We looked at my diet – which had always been fairly healthy, with fresh home cooking the norm – and found that my portions and snacking were my biggest concerns. Iain had found a problem that was easier than I thought it would be to change. I didn't have to drastically change what I ate; I just had to monitor how much of it I was eating. It all made perfect sense.
Now and the future
Today I weigh 12st 4lbs and I am on course to cycle over 5000 miles this year.
All this would not have been possible without the guidance, motivation, and overall support of Iain. There was no thought about this being a short-term weight loss.  The whole plan was focused on the long term. Today I push myself further and harder than I ever thought possible.
He did indeed help me HIT MY GOAL, and I would recommend Iain to help you to achieve whatever you have been striving to do.